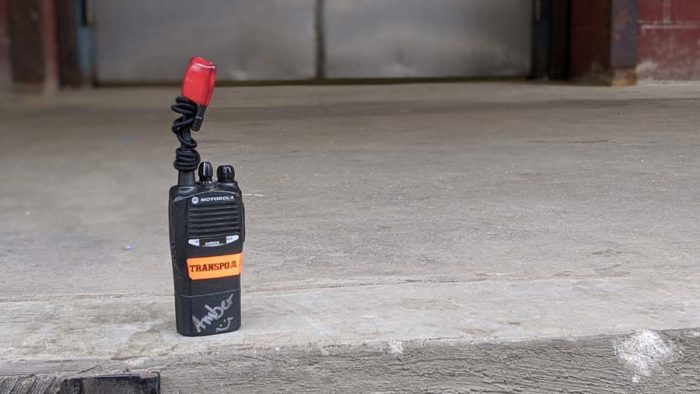 Coronavirus Halts Film World, Now I'm Unemployed
Happy Spring everyone! What a nice gift right? A nice big box of Coronavirus, COVID-19.  I work in the film world in NYC and now I have no job.
I haven't worked on set since Friday the 13th. (3/13/2020) What a day to end production right? That day will forever stick out in my brain. Every hour there was a new update on what was changing in the world and how it was affecting our show, and my life for that matter.
I work on a hospital show, some of you that know me know the show, but for the sake of …I don't know, the NDA that I signed I can't give too many details. You get what I mean. But I'm going to get this out, because lord knows I have the time on my hands.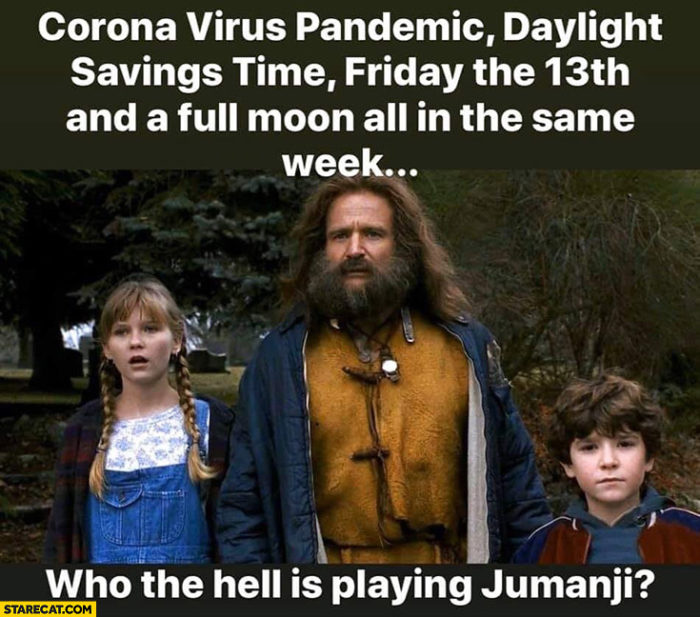 Regular ol' Production
My show's season starts mid-July and goes till mid-April, and this season was well on it's way to being late April actually. 22 episodes! Yes, anyone in production will know how long that feels, but also how secure that feels to have a job that long in the freelance film world. I worked for several years to get the job stability I have. Not having to worry about getting independent Assistant Director gigs, and not having to worry about getting staffed on union shows. Working my way in the DGA to become a union Assistant Director. So, needless to say I was happy with the job that I had on this show, and the jobs I had lined up afterwards.
Everyone on my show was getting a big case of senioritis, and was ready to go on our hiatus before the next season. I sure was. I have a 15 day vacation planned. On a cruise ship, no less! A cruise ship. Yep. I was supposed to head over to Europe too, even hit up good ol' Italy. Some crew folk go on vacation, other just hop on another job, and others pursue their own movies, and make their independent projects. Either way we had plans man. Plans that are no longer.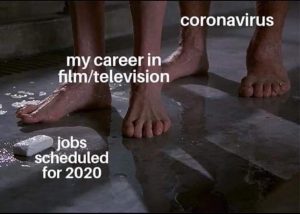 March 12, 2020
It was a Thursday. We had a 730am calltime. It was great because crew do not want to get to Friday and do an overnight. A 730am call on a Thursday was great news for everyone, since we started with an 11am call on Monday. We were shooting at the regular hospital we usually shoot at. Yes, we shoot in real hospitals. We shoot in two hospitals, one way more than the other. The plus side being we had all the hand sanitizer that we could handle! Hooray?
By this time the Coronavirus, COVID-19, was very much in the news, and was very much in NYC. No one on the crew wanted to shoot in this hospital even more now, since we already shot a day there on Wednesday. The day prior we were told there were no known cases of the Coronavirus at the hospital. That day things were a bit more hush-hush, a bit more tense, and the crew were all a bit more cautious and anxious. You got the feeling that shit was going down low key, and secret conversations were happening behind closed doors. Of course to not incite panic with the cast and crew, and to successfully finish the day. We don't want to waste money now, do we?!
The shop stewart (the one that expresses safety concerns, and speaks for the crew to production) mentioned to me "Hey, just so you know, for your safety we shouldn't shoot above the ER." It was said very casually, but also a nod to say "Hey, you should voice your concerns for what we're about to do." This was the start to the scramble. At the time the hospital was actively taking patients who were showing symptoms, but confirmed cases is largely unknown because of the testing kits issue we have in the states right now.
Producers Scramble
The shop stewart probably called the union and wanted to push production to NOT shoot above the ER. Thank God for unions, because I sure do not want to shot right where they are admitting patients with suspected Coronavirus. From that point forward the schedule we had on the callsheet was botched. It affected our last scene of the day. I witnessed the 1st ADs, line producer, and show runner have a serous huddle in front of basically half the crew to try to figure what we can shoot, and where to shoot it to fill the time.
The plan went from: "We're not going to shoot that scene," to "We're going to now shoot that scene somewhere else," to not shooting it at all, to "Ok, we're wrapped and never coming back to the hospital." To say that it escalated quickly is an understatement.
The next day was even up in the air. Originally, we had one more day at the hospital. We all thought "Great! Finally out of that damn hospital."
We wrapped that day with no callsheet, no idea what we were shooting, and no idea about our show's fate. The only thing we did know was that we were shooting something at the stage, and we had an 11am call time.
March 13, 2020
Happy Friday the 13th!
I had many emails Thursday night, a few pre-lim callsheets, each very different from the next. I finally fell asleep, and woke up to an email that said not only were we out of that hospital, but today (Friday), will be our last day for the whole season! Wrapped for the season?! 5 weeks early?!
Most shows at the time were announcing that they were going on a two-week hiatus. The crew was very shocked that they were wrapping the whole season. We thought it was overkill to be honest. There was so much uncertainty in the air because the situation kept changing every 15 mins.
Everyone was worried about a lot of things. Can they jump to another show? Can union folks use their accrued vacation pay? Is every show halting production? We soon learned through industry friends that yes, every show is either wrapping for the season, or they are going on a two week hiatus. Everyone is about to be out of work. and  not only in NYC, but my friends from other states were saying that their productions were also halted for two weeks. Even the smaller cities outside of LA, NYC, Atlanta, and Chicago. Productions were not taking chances.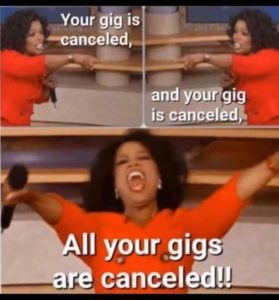 Two Weeks of Pay?
Later that day word was getting out that some shows were giving their crew two weeks of pay following their last day of production. My show was not. By the end of the day everyone was aware that it was possible to get paid for the next two weeks. We wrapped with this idea being in the air, and that was it, just something that was said. Nothing more. I left that day thinking what a shitty way to end a season. no wrap party! NO wrap gift! Nothing, but the uncertainty of when I'll be working on set again.
Lucky for Me
I had a wrap out day for that following Monday. Hey, I'll take a day of pay! I went into the weekend fully prepared to apply for unemployment. My name was passed around for a few gigs that were to begin following the two week hiatus for all the shows. Obviously nothing confirmed. So, I wasn't THAT stressed. I just had to watch what I spent and thankfully, oddly enough, I saved my check from the week prior. I never do that, but for whatever reason I hadn't deposited my check. It all wasn't so scary because it wasn't the first time being out of work because as film freelancers know there are some dry spells, and we can be out of work sometimes.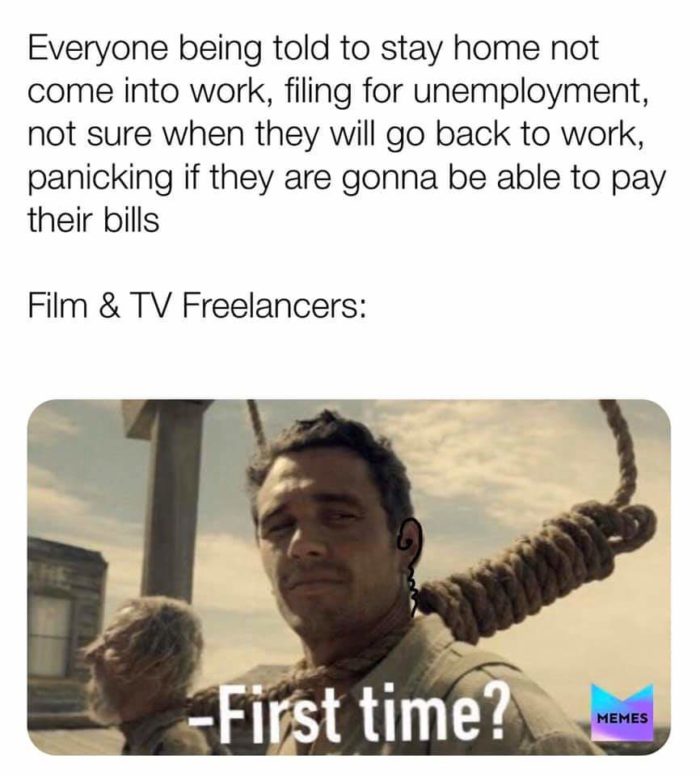 The weekend came and so did a lovely email stating that our show would also be giving two weeks of pay! I couldn't be anymore grateful for them deciding to do that. I mean, I don't get that overtime pay, but I'll take what I can get.
Record Production
Before Coronavirus struck the World, NYC production was at an all time high. More and more TV shows and Films for the many streaming services, networks, and studios were all shooting in NYC. There has never been more work in NYC. There are a few pessimist folk that always say "The bubble is gonna eventually burst." I always thought…"How though?" It's not like the housing market, or the dot com start ups. I suppose people could just stop Netflix and chilling and that streaming service would just die because Disney+ just took over everything. Who knows, but what I do know is that a virus took it all out in one fell swoop!
We Work with People
That Friday, on our last day I said to one crew member how the people who work those office, 9-5 jobs really had the upper hand right now because they could work from home. Did I regret my decision to work in film? No, but did it make me feel foolish? A little bit. I love working on set. Each day is different, and I get to flex that problem solving muscle daily, which I love. But we can't work unless it't with a bunch of people.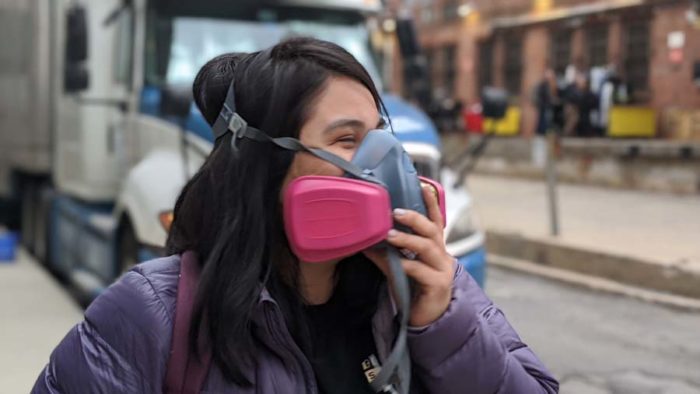 In a world where you can't interact with people, the only film and TV that can really be made is animated films and TV shows. On any given day I interact with at least 70 people on a slow day. Forget even trying to add background actors into that equation. The number of people I see and speak to in a day on set is astounding. And that goes for everyone that works onset. Add in the amount of equipment that's exchanged, handled, and set up you have a melting pot of bacteria, viruses, and germs having a happy with all of us.
Today, March 19, 2020
It doesn't help to know that a person from my cast/crew is a confirmed Covid-19 case. That's actually kind of frightening. I have about 5 days to go till I know I'm in the clear of not getting it as well. 9 days being the last time I was in contact with this person. But even that is very far fetched because who knows where else I might have come into contact with it. Could of been the grocery store I just went to today.
While at the grocery store I couldn't find a noodle or a frozen vegetable to save my life! Empty shelf after empty shelf. I eat gluten free because I have Celiac Disease, and even I had trouble getting food! I did score some soup though!
Optimism
I think it is pretty optimistic to think that this halt on production is all going to blow over in just two weeks. By the time of this posting one week has already gone by, NYC cases keep going up, and the social distancing restraints are even more further enforced. We have one week to go before we get the next update on whether or not production will resume. The USA hasn't even been through the worst of it yet. China did give us the light at the end of the tunnel though, they are on the up swing. Italy – not so much. People are finally getting back to work in China. That does give us hope, and let's us know things will eventually get back to normal.
What to Do
So, I'm not working, but what am I doing? I'm focusing on my side projects. I run another website (wanna check it out feel free to visit it here) and I'm writing there more, building it up. I am reading more, I'm thinking about more video ideas for my Youtube channel. I haven't had a new upload there in almost a year because of my constant work on set. So, I have some things on my plate.
So, I say to you: work on what you wanted to work on. Work on your passion. Now is the perfect time. I know there are writers out there working on their film scripts, maybe a new pilot, a whole web-series possibly? Hell, start a Youtube channel, podcast, or new website. My visual artists out there, maybe you haven't created anything in a while. Draw! Paint! Hell scrapbook even. Photographers out there, I know you have a pile of photos that are just waiting to be edited. Get to it. Also, call your families! Check in on them. I know a lot of NYC are from different cities and states, so stay connected with your family.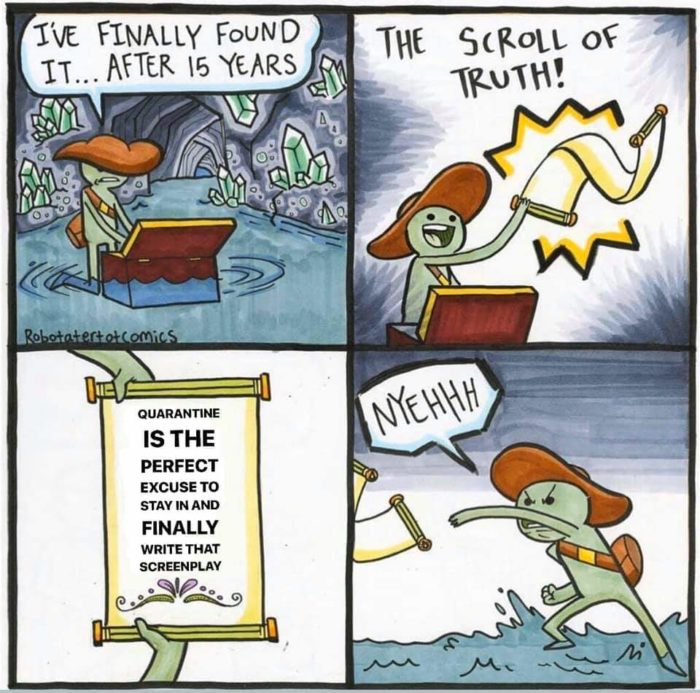 Who Knows
I don't know when shows will resume production. State and Federal government folks are saying prepare to be isolated for 8 weeks. God help me if that's the case! I can only hope this doesn't get as bad as it is in Italy, and Spain. The plus side to this is that when all the production comes back there's going to be a ton of work out there! Although, my negative thoughts are penetrating here, pilot season for this year could just be nixed altogether and just have to wait till next year. Because 8 weeks throws the whole scheduled year off by way too much. So, I'm expecting the worse, but hoping for the best! Who knows.
If coronavirus has got you down and you need to vent, rant, talk about what you're going through please comment below, or you can always email me or contact me here. You're not alone in this. 2020 sucks so far and I'm here for ya!