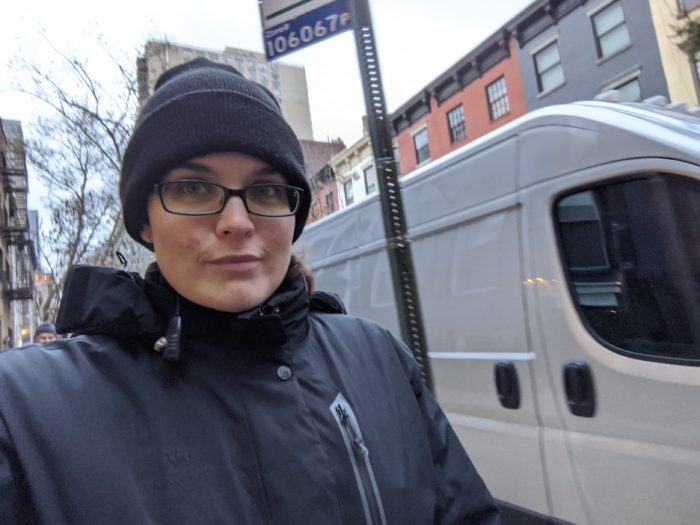 What Should Production Assistants Wear on Set?
What Production Assistants wear on set can really make or break their day. It might be a little confusing on what to expect on set, and how to prepare it, but as a Production Assistant you have to know what to wear so you don't make a tough day even worse. I go through every situation of what seasoned Production Assistants wear on set.
Always Pay Attention to the Weather
Filmmaking happens in all weather. If a scene is indoors 80% of the crew is still outside and dealing with the elements. So, your first tip: Prepare for the outside even though your call sheet says a scene is happening indoors. As a Production Assistant there are a lot of you, and not all of you will win the lottery and get that coveted lock up inside where the scene is be taking place.
Always prepare for the outside. No matter what.
Before you leave your house always check the weather where your film location is shooting. Bring whatever gear you need with you even if it's not happening right at the moment. And check for the next 14 hours. Remember, you have a very long day.
---
Summer
For the summer you are battling the heat, and the sun.
You have to make sure to bring your reusable water bottle as a lot of sets are going green and don't use plastic water bottles anymore. They use 5 gallons jugs of water for a lot of sets now.
You need to make sure to stay hydrated.
It has happened, and I've seen it first hand – someone passing out because they were so distracted by their tasks and the day that they kept forgetting to drink water and fainted, passed out, or suffered from dehydration and/or heat stroke.
Production Assistants wear sunglasses, and hats for a reason. They need to protect their eyes. I've worked on so many sets where there was not a cloud in the sky and there was no relief, but from what I was actually wearing. Dealing with the bright sun all the time will do a lot of damage to your eyes. Protect them and wear sunglasses.
You also need to make sure you have light clothing. Some will argue color makes a difference. I'm not here to debate that. I don't think it does, but I put more weight in the actual material. There's a reason why you see crew wear cargo pants a lot. It's a lighter, but durable material (let's not forget the many pockets they have are super useful.) I try to stay away from skinny jeans or jeans/denim in general when it comes to hot summer days. I don't want to cause more sweat when I don't need to.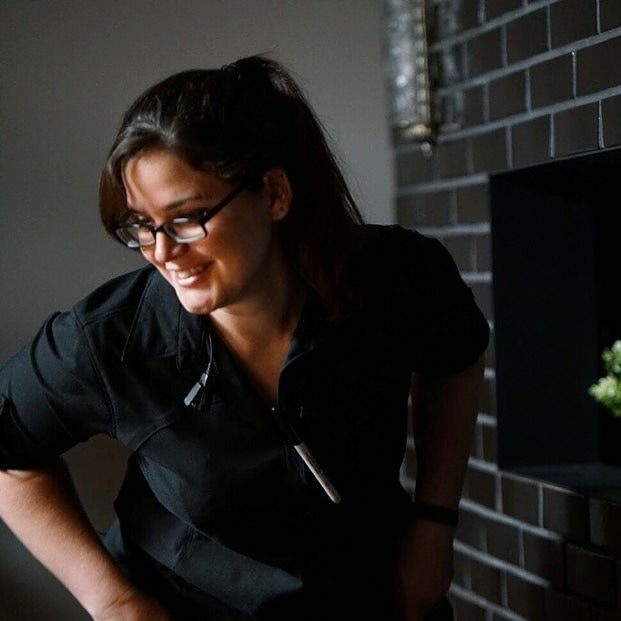 Shirts made out of material that wicks away moisture are ideal. Cotton will have you drenched all day if you're hot and sweating. Look for apparel that says it's moisture wicking. Stick with high tech polyester as a go-to material.
Your first tip: Prepare for the outside even though your call sheet says a scene is happening indoors.
For the love for all that is holy – make sure to always have sunscreen/sunblock on you. Just keep it in your bag. And ladies the SPF in your make-up foundation is not enough SPF to prevent burns and premature aging for that matter. So, lather up on the sunblock folks.
There is nothing worse than thinking it's a nice warm day and then freezing because you forgot the temperature drops at night. On an overnight it does get colder most of the time. Have an extra hoodie in your bag. An extra layer of some sort. I usually carry an extra thin lined fleece so, it doesn't take up much space in my bag. You're probably starting to realize why PAs always have bags on them. You need them trust me.
This is the one way you can pick out a green PA from a seasoned veteran PA. They're usually soaked from head to toe with regular everyday clothing, and it's only 8am. The green PAs believed their quick drying rain jacket will get them through the rain on set.  You couldn't be more wrong.
Waterproof!
When it starts to down pour you need a "WATERPROOF" jacket. Not a "Quick Drying" or "Water Resistant" jacket. It has to be "Waterproof." Remember you will be outside for hours. Those hours add up and your "Quick Drying" jacket will leave you soaked because it doesn't ever have a chance to actually "quick dry."
I have gone through so much trial and error trying to find the right one. Spending a lot of money trying another rain coat, and finding out it doesn't do the job once that big rain storm happens on set. And I just end up being mad every time I get soaked and had to remain that way for the duration of the day. It makes for a miserable day. It really does.
I wanted to find a good jacket, but without looking like an Alaskan fisherman on set. Here is what I wear. I finally found something that looks decent, but is actually waterproof. And not insanely expensive.
I know Production Assistants don't get paid a lot so, money is tight. My Jacket cost me, at the time that I bought it a year ago ,$75. It's actually cheaper now for the Men's. I don't know why the Women's is still the same price. Still a very affordable rain jacket either way. Especially, it being from Columbia. Sometimes their products can get pretty hefty in the price tag in the jacket section, but this one isn't.
Rain Pants
This by far was the hardest thing to find! Any nylon material rain pants will not prevent you from getting wet when it rains while you're on set. I've seen many a PA with these kind of cheap rain pants. And they end up being a wet layer you get stuck wearing on top of your wet regular clothes.
You need to make sure to stay hydrated!
I couldn't find any quality rain pants that weren't over $150. Everyday I was not on set I felt like was looking for affordable rain pants that were water proof.
I finally found some! And no, Amazon was not where I found them.
REI was the place I finally found them. I bought the non-insulated rain pants because in the summer I don't want to create more sweat for myself, and I can just layer up in the winter. They're windproof too, which make a big difference in the winter. These work year round. And I ALWAYS, no matter what – keep them in my bag.
You really can't beat this price. I love my pants and I swear by them. And I gain nothing if you get these pants. I wish I did. lol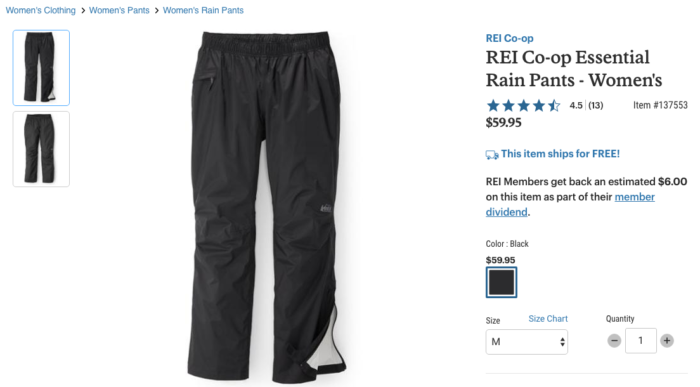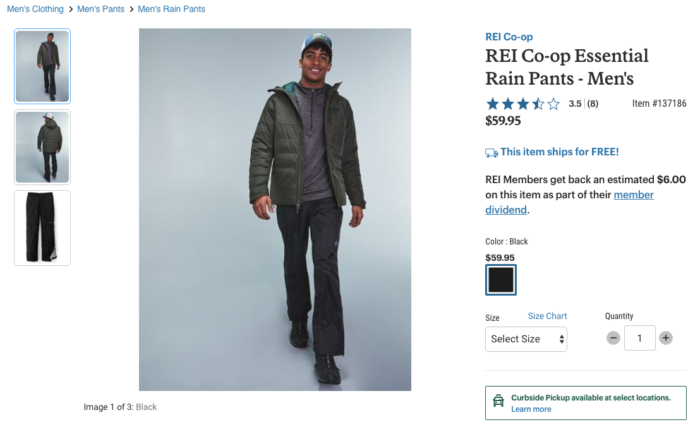 Footwear
Now, let's talk about keeping your feet dry. Honestly, for me there is nothing worse than having my feet wet. I HATE it! I can deal with my pants being wet, and even tolerate it if my jacket wasn't up to par and my clothes get wet, but not my feet.
A lot of people on set wear NEOS. These are something you put over your shoes. People swear by them, but I don't own these and I think I never will. They are affordable and they last awhile from what folks tell me.  A bunch of Production Assistants wear these.
The reason I don't have them is because I don't care for the look, or the fact that when you wear them you look like you're going snow shoeing in the Arctic. And by that I mean by the way you walk, not just how the NEOS look. I just want to walk normally is that ok? 
These might be for you and that's totally ok. I'm only here to give you some options. I will recommend these because I see them a lot on set, they can fit in your bag pretty good, and you can use them in any season, and the cost isn't bad at all.
What I wear are waterproof shoes from Adidas. I looooove these. They are comfortable, not heavy like some shoes in this league and they look like regular sneakers. When I discovered these I was over joyed!
I have these exact pair! And I love them so much, so much so I get excited when it rains just so I can wear them.  
That sounds really stupid when I read it back, buuuuuut it's definitely true.
These are just under $100. More than the NEOS, but c'mon they look so much better! I can get through the whole day wearing these too. And I really like the pull laces!
Here are the Men's version.
---
Winter
You can't mess around when it comes to dressing for the winter. Remember this: layers!
Dressing in layers will save you from freezing out there on set.
Also a scarf, hat, and gloves is a given – you need them. Once your fingers get cold it's hard for you to stay warm. That also goes for your feet. Once your toes get cold it's a challenge to get the chill out of your bones.
Let's start with your coat. You need at the very least a water resistant jacket that is also windproof. The wind really can cut you! If you can protect yourself against the wind that's half the battle when it comes to the bitter cold. The jacket below is water proof.
This is the jacket I own, just in black and I have no complaints. I love it. It keeps me warm, add a fleece layer underneath and I'm set. And this jacket is under $100! A great winter jacket for that price is crazy talk.
Men's Version here
When I'm on set outside in the winter I usually have a long sleeve shirt or turtle neck, with a Columbia Fleece, and then my jacket, and an added fleece vest in my bag just incase I need a bit more warmth. Or if I want to switch out my long sleeve fleece to get a bit more breathability. If the temperature dips to the 10s and below zero I have another lining I use. It's a Columbia fleece line jacket I wear over my other fleece and under my jacket.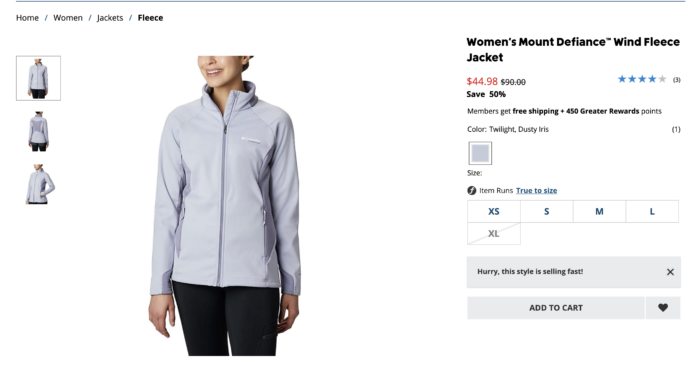 I've had this for so many years! I think about 10 years now. It's such a thin layer, but very warm. This was the closest I could come to finding it since I've had it for so long I couldn't find the exact one. Columbia really is a quality brand that's on the more affordable end sometimes.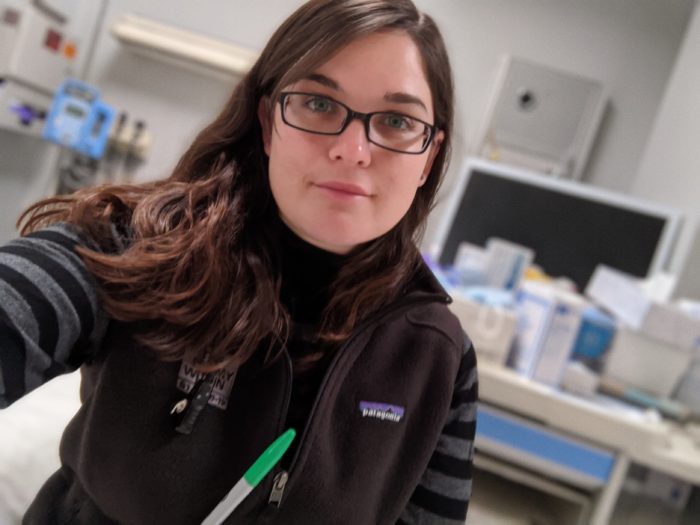 I use the rain pants I showed above, but I have leggings underneath my jeans. With the Rain pants over my jeans. Guys usually wear long johns underneath their jeans and rain pants, or snow pants over their jeans.
The only reason I don't have snow pants is because I find them hard to move in. Also for a curvy woman it's hard to find nice snowboard pants that fit comfortably. All that matters is you have multiple layers on, and the outer layer being waterproof and windproof.
Dressing in layers will save you from freezing out there on set.
I hate boots. I really do. For the winter to combat the slush and snow, sometimes I just wear my Adidas from above with some thicker socks. But if it's really cold I have to bust out my real winter boots.
I own waterproof Timberlands. Again your boots have to be waterproof. Once your feet get wet in the winter you run the risk of frost bite. No joke. Wet feet is one thing, but cold wet feet?! No thanks.
These are $100. When you compare that to any kind of waterproof boot that's not bad.
 I know these boots will last me awhile and they have actually. Once I got these I didn't even think about another option. I was completely satisfied.
What Seasoned Production Assistants Wear
This isn't only what Production Assistants wear, but what all crew members wear. If any of these options aren't your thing look into apparel needed for hiking, or skiing/snowboarding. Those categories give you the types of protection and materials needed to make sure you stay dry and warm, with also giving you mobility and breathability.
If you have an item you just love – recommend it below in the comment section! I know there are a ton of brands out there that are of great quality. And if you can afford some of those brands – Go for it! A lot of folks go for The North Face, Carhartt as well. I see a lot of Patagonia too, but man they are really expensive! This guide was really for the folks trying to save money and get the most bang for their buck.
The items I suggested are actually things I own, and are totally satisfied with after searching for so long! And these are items that have lasted me a long time so far. I think if I get something new it might be because I just want something different to switch it up. But that's a long shot because let's save some money, right?
A Regular Day
If the sun is shining, it's a nice breezy 73 degrees outside, and you have no elements to worry about – wear what you want. But remember to have good shoes or your feet will be killing you. I wear running sneakers on set. Just be comfortable, and look a bit professional.
But!
Never wear sweats on set. People will make fun of you for weeks. I've seen this happen first hand to a great PA. He wore sweats and the 1st AD was just tearing him a part all day. The only thing I'd say is wear clothes with pockets. It just helps with the stuff you need on you as a Set PA. For more info on what a Production Assistant should have on them I have a video about those items.
I hope this guide helped you figure out what you need wear to work on set. It will take some investing. But if you are starting to work on set more and more it's worth it to have these things. If you have any question please feel free to contact me!